2020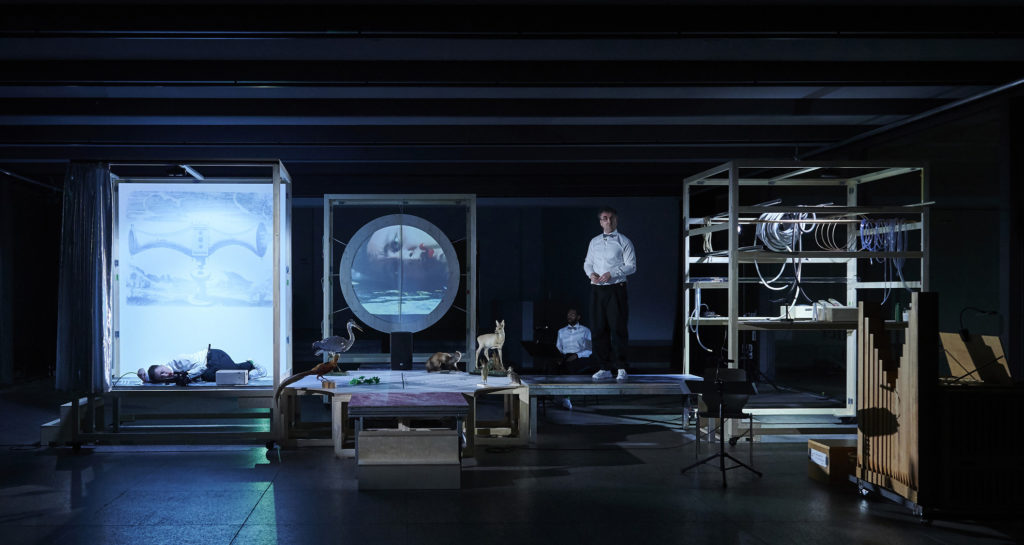 Sing Out! – A Larynx Cabinet takes the audience on a journey to the birthplace of operatic voice and even further: to humanity's first intake of breath. Our hero on this journey is Orpheus, the mythological singer and master of transgression. Sing Out! is based on interviews with Orpheus, as well as with the singers and other staff of the Opera House in Stuttgart, as experts for the phenomenon that is voice. Motifs from ancient myths are interwoven with theories about the evolution of human expression in connection with the larynx, about singing and about the genre of opera in general. The result is a staged acoustic essay that asks: Where does the power of the larynx in opera come from and what possibilities do we have to play with this power?
Concept/Directed by: Johannes Müller, Concept/Stage and Costumes: Philine Rinnert, Composition: Neo Hülcker, Monteverdi Arrangement: Sebastian Schwab, Dramaturgy: Ingo Gerlach
Singing and Performance: Elliott Carlton Hines, Hauke Heumann, Neo Hülcker
Flute: Mario Bruno, Theorbo: Leon Jänicke, Baroque Trumpet: Jakub Kulawik, Baroque Cello: Jakob Herzog
Production: ehrliche arbeit – freelance office for culture.
Sing Out! – A Larynx Cabinet is the first part of the series Orpheus Institute at the Staatsoper Stuttgart – in cooperation with artists Johannes Müller / Philine Rinnert and the Opera Ballet Vlaanderen (Antwerp/Ghent). Funded by the Doppelpass – Theatre Cooperation Fund of the German Federal Cultural Foundation.
Opening February 6th 2020, at Württembergischer Kunstverein Stuttgart