2021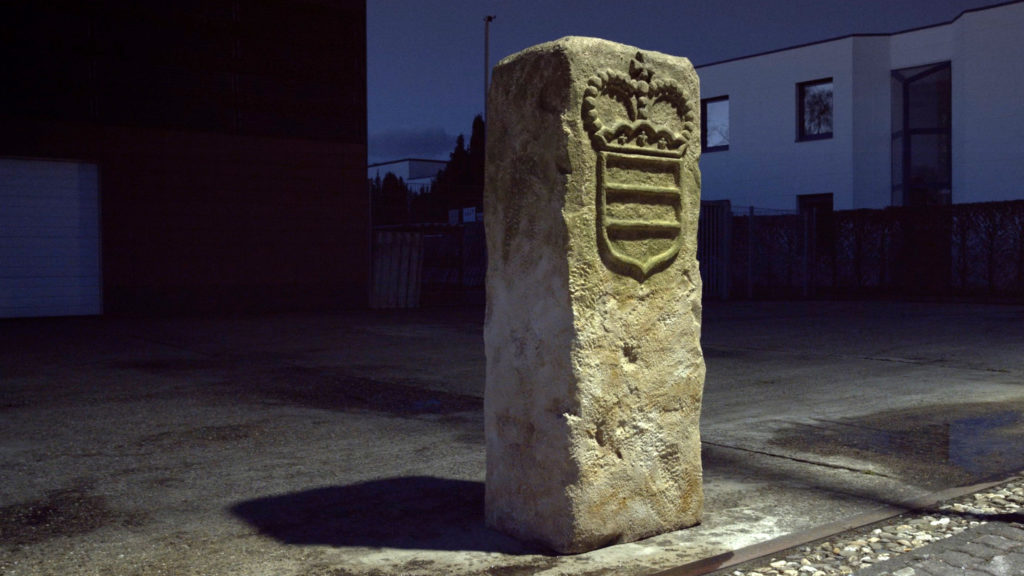 "processing borders" is an experimental documentary that questions the manifestation of territorial borders. Using a replica of a 250-year-old boundary stone from the German-Dutch border – a relic of the Peace of Westphalia – the artists intervene into various environments in the border region. In performative arrangements they interview locals about their life at the border and accompany the work of a professional from the land registry office. A voice over of the Dutch Internet activist Marleen Stikker leads through the film. The work opens up a space of critical reflection on the construction of virtual and physical realties.
A project by Ian Purnell and Philine Rinnert
Camera and Editing: Ian Purnell,  Set/Sound/Performance: Philine Rinnert
Sound design: Amund Ulvestad, colour correction: Joanna Piechotta
Production border stones: Martin Elz – Werkstatt für Skulpturen
Interviews with
Marleen Stikker, internet activist, Amsterdam
Heinz Kroschner, and registry Kreis Borken
Johannes Hoven, resident of Suderwick, the German side  of the border
Freek Diersen, resident of Dinxperlo, the Dutch side of the border
Filmed at the German-Dutch border in the (former) devided village Suderwick/Dinxperlo,
at the Museum für Kultur und lebendige Tradition (kult) in Vreden,
at Westfälischer Kunstverein
and in the terrain of Burg Hülshoff.
processing borders was developed as part of Westfailure, a project of the Center for Literature at Burg Hülshoff, Münster.