2023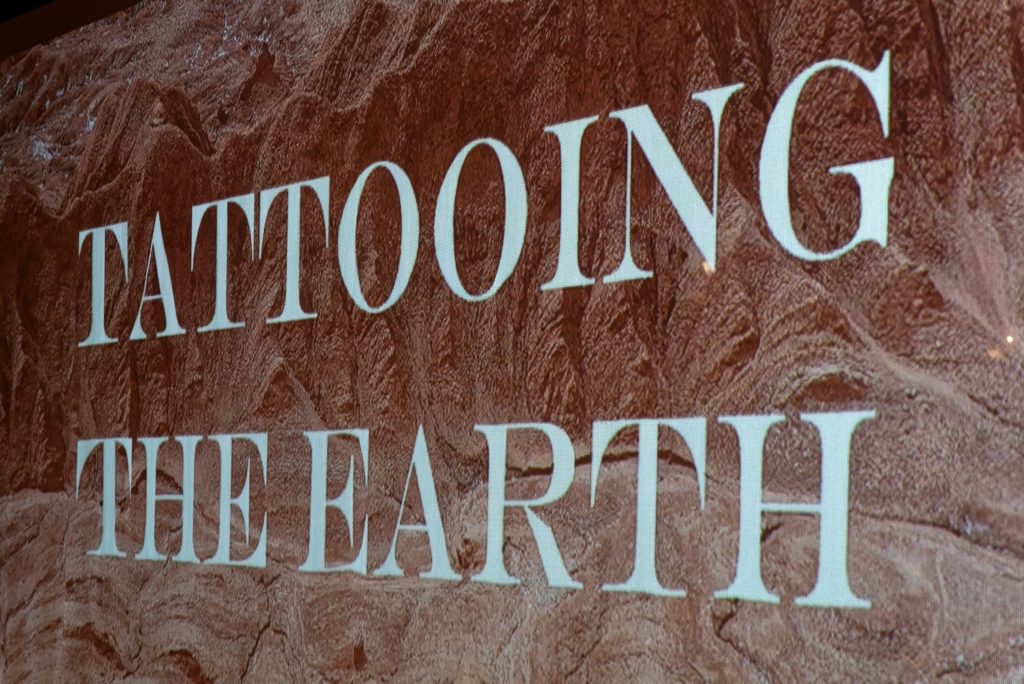 Tattooing the Earth is a collective mapping developed by the artist group Freundliche Mitte. It centres around the landscape as a mirror of ownership structures, democratic and anti-democratic spaces, as a place of remembrance and sedimentation. Conceived as a walk-in installation, Tattooing the Earth feels its way along the surface of the earth, through colliding plates and habitats. Through disappearance. The result is a non-linear narrative assembled from bits and pieces, with workshops and talks enhancing it. Perspectives are flexible, their images always incomplete, always moving. Which memory remains, which counts?
Created by and featuring Freundliche Mitte (Gerhild Steinbuch und Philine Rinnert)
Music: Misonica, Video: Ian Purnell
With special thanks to Mirjam Papouschek & Stephan Langer
Opening at brut nordwest in Vienna, 17.01.2023
Accompanying talks:
Protocolling Demolition: Talk with Katrin Hornek and Elisabeth Schäfer, moderated by Alexander Kerlin
Deromanticizing Nature:Talk with Fahim Amir and Nanna Heidenreich, moderated by Anna Laner
Accompanying workshops:
Fighting in Contaminated Spaces – Fieldwork with Erde Brennt
Fighting in Contaminated Spaces – Fieldwork with LAGDA (collektiv from the Atacama desert in Chile)It is planned to continue the project and the joint research in other places and landscapes with local artists, activists and scientists.
A co-production of Freundliche Mitte and brut Wien. With the kind support of the City of Vienna's Department of Cultural Affairs.
Photocredits: Christine Miess, Dimitry Pakhomovsky, Philine Rinnert