2020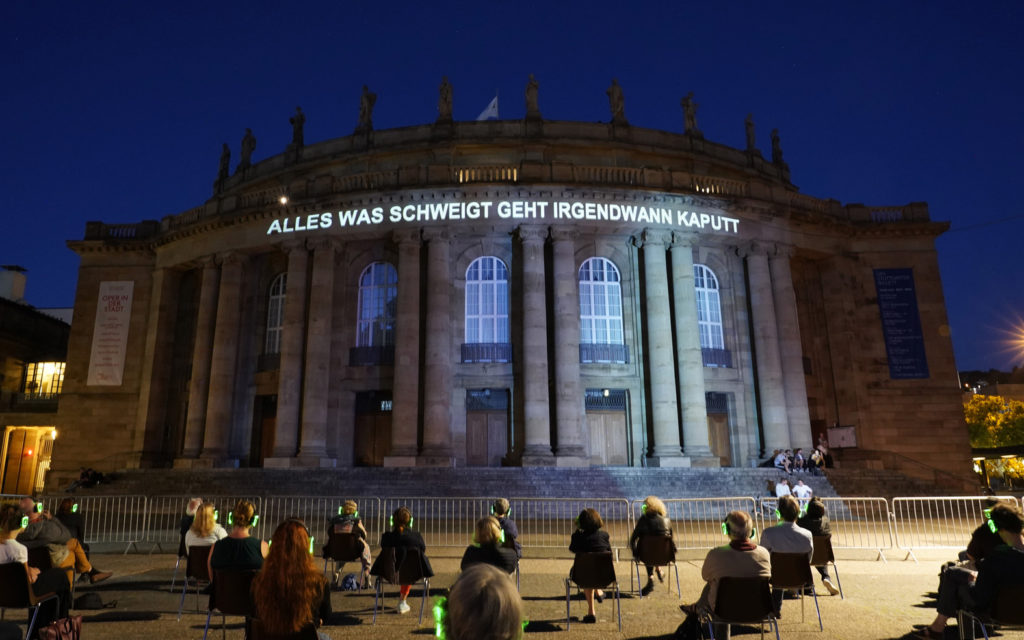 Eine audiovisuelle Reise zu den Stimmen der Zukunft
In Teil 3 unserer Projektreihe zur Opern-Stimme spielen wir den Ball weiter: Setzten sich die ersten beiden Episoden (Sing Out! und Human Jukebox) stark mit der Perspektive der Sänger*innen auf das ihrem Körper innewohnende Instrument auseinander, so nehmen wir zum Abschluss die Zukunft der Stimme ins Visier und befragen dafür diejenigen, die für eben diese Stimmen schreiben: Die Komponist*innen.
Wir haben Gedanken und Statements derjenigen gesammelt, deren Arbeit und Leben es ist, die Stimmen, die für uns auf der Bühne singen, weiterzudenken. Was fasziniert sie an der Arbeit für die Stimme? Was haben sie vor? In einer anatomischen Zergliederung kehren wir die Technik nach außen, überblenden den Stimm-Apparat des Einzelnen mit der Maschinerie des Opernhauses und wollen fragen: Wie werden wir uns berühren lassen?
With the voices of
Detlef Rüffer, Harald Prösel, Tibor Namesnik (technical stuff Opera Stuttgart)
and the voices of the composers
Bernhard Lang, Donghoon Shin, Lisa Streich, Dai Fujikura, Genoël von Lilienstern, Sergej Newski, Yair Klartag, Olga Neuwirth, Gerhard Stäbler, Sara Glojnarić, Neo Hülcker
Gesang: Jule Flierl (part of her solo "Operation Orpheus")
Research/direction: Johannes Müller and Philine Rinnert
Text: Gerhild Steinbuch
Sound: Lenard Gimpel
production: ehrliche Arbeit – freies Kulturbüro
Thanks to Daniela Brendel and Ricordi Berlin and to Benjamin Krieg
Ex Machina is the third part of the Orpheus Institute series at the Staatsoper Stuttgart – in cooperation with artists Johannes Müller/Philine Rinnert and the Opera Ballet Vlaanderen (Antwerp/Ghent). Funded by the Doppelpass – Theatre Cooperation Fund of the German Federal Cultural Foundation.