2012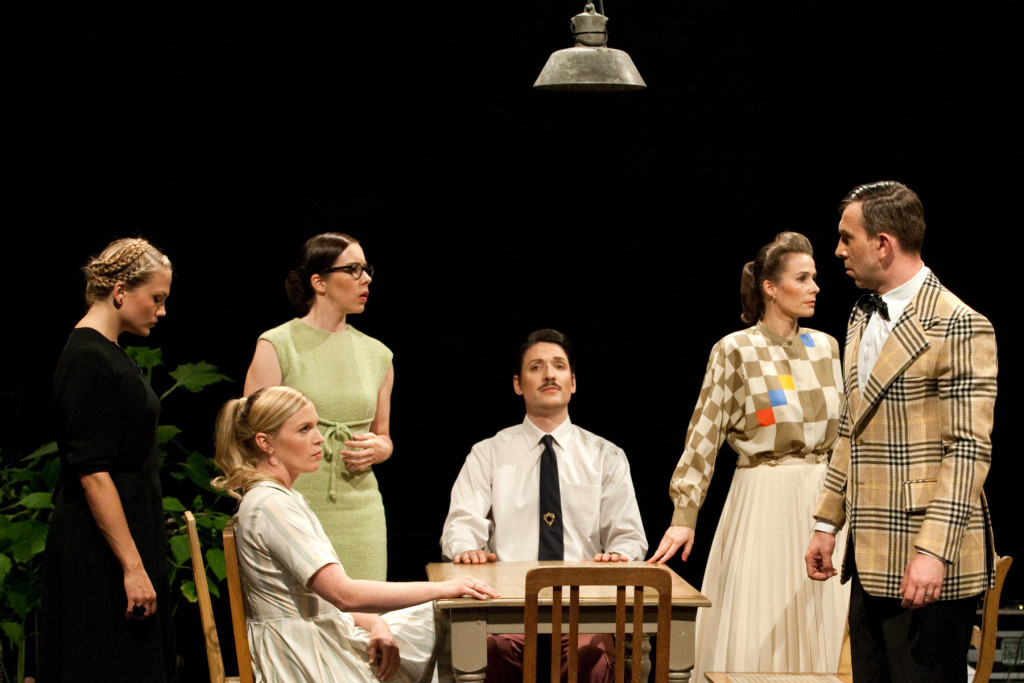 Ever since the Fox sisters became a media sensation in 1847 for making contact with the poltergeists haunting their house in New York, esotericism has developed into a branch of business situated somewhere between counseling and show biz. Together with a cast of singers, dancers and actors, director Johannes Müller and composer Martin Lorenz venture into the commercial sphere of the ephemeral. Based on the comedy Blithe Spirit, which tells the story of a séance gone terribly wrong, they go on a quest for new sounds, personal spirits and brilliant business ideas. With the assistance of 30 record players and the greatest radio hits of the 1940s, Opération Spirituelle [RPM 45] delves into the depths of questions such as: Do the voices of people long dead present themselves in the pink noise and crackles of a playing record? Would they join in a song? And what happens if your long-suppressed past suddenly takes a seat beside you on the sofa?
With: Franziska Dick, Anna Eger, Jill Emerson, Cora Frost, Hauke Heumann, Martin Lorenz, Ulrike Schwab
Director: Johannes Müller, Musical director, Composer: Martin Lorenz, Set & costumes: Philine Rinnert, Make-up artist: Elena Irsigler, Lights: Ralf Arndt, Director's assistant: Nolundi Tschudi, Stage & costume design assistant: För Künkel, Production management: ehrliche arbeit – freelance office for culture.
A Johannes Müller and ehrliche arbeit – freelance office for culture production. Co-produced by SOPHIENSÆLE. Funded by the City of Berlin, Fonds Darstellende Künste e.V., Pro Helvetia – Swiss Arts Council and Rudolf Augstein Foundation.