2019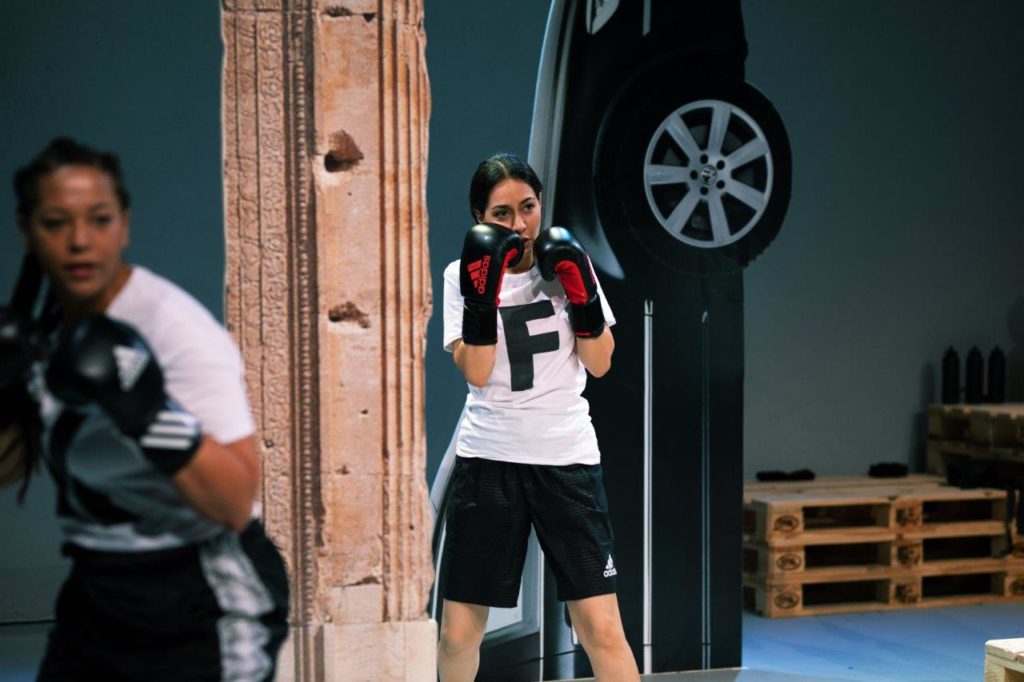 A project by Freundliche Mitte
ORATORIO EUROPA tells of a rather right-wing world that gets in the way of everything humane – and then falls apart. It's a story of what could happen; a dystopia that needs to be busted in order to widen our perspective; in order to create the ability to do more than just deal with misanthropy.
Following their piece MOUNTAIN ONE, a satire on alpine heimat kitsch, right-wing policies and Austria's tendencies of seclusion, Freundliche Mitte now set their sights on Europe. Six female fighters sit on the ruins of our western world that has nothing left to say to them. It's a world occupied by the New Old Right, where democratically elected government officials join forces with members of right-wing extremist, anti-democratic associations. In ORATORIO EUROPA, Europa herself makes her entrance as a choir: the abducted goddess, the foundational myth of a continent, often told, often bastardised, exploited. Myths, tradition and reality, science fiction and alternative facts clash, the reactionary structure is busted, the dominance of right-wing rule disrupted. Finally. What do they sound like, those voices that emerge from the choir and enter the palaces of the new world?
With Katharina Bach, Bernhard Fleischmann, Mahsa Ghafari, Pegah Ghafari, Victoria Kremer, Sophia Kyrou, Stephan Langer, Mirjam Papouschek, Nina Pjanic, Christina Raab, Philine Rinnert, Lili Schandl, Anna Starzinger, Gerhild Steinbuch
Head of production Partner In Crime
Premiere in brut Wien, Vienna, 8th October 2019
A co-production of Freundliche Mitte and brut Wien. In collaboration with Jugend am Werk. With the kind support of the City of Vienna's Department of Cultural Affairs.