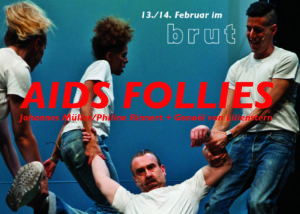 AIDS FOLLIES
Johannes Müller/Philine Rinnert + Genoël von Lilienstern
13th and 14th February 2020, 7pm
at studio brut
Zieglergasse 25, 1070 Vienna
Based on the exculpation of alleged "Patient Zero" Gaëtan Dugas that keeps popping up in the media, Aids Follies delves into the history of the notorious HI virus. Conflicting theories about its genesis, queer activism and medical terms of combat are the building blocks for this mix of lecture performance, musical revue and political theatre. Pop singer Valerie Renay, vocal artist Sirje Viise, baritone/drag performer Shlomi Moto Wagner and actor Hauke Heumann perform on stage to songs composed by Genoël von Lilienstern.
In their new project, Johannes Müller and Philine Rinnert continue their work with a hybrid form of musical theatre. Aids Follies combines found footage, new compositions and popular culture. When they saw the exculpation of fabled Patient Zero Gaëtan Dugas once more covered by the media, they decided to direct their attention to AIDS and its meaning in terms of the repetition of stereotypes and national frontlines. Their "viral biography show" based on conversations with witnesses, researchers, doctors and activists exposes political manipulation and societal stereotypes. Composer Genoël von Lilienstern translates phenomena from the HI viral cycle into sound experiences and adds soundtracks to found artefacts, once in a while making reference to musical footage from the research phase.
Concept and direction: Johannes Müller, Concept and set design: Philine Rinnert Composition: Genoël von Lilienstern, Video: Benjamin Krieg, Phillip Hohenwarther Featuring: Hauke Heumann, Valerie Renay, Shlomi Moto Wagner, Sirje Aleksandra Viise Additional text: Daniel Sauermilch, Additional research: Ngefor Akamangwa,
Production management: ehrliche arbeit – freies Kulturbüro
A co-production by Johannes Müller, Philine Rinnert and brut Wien, Theater Rampe Stuttgart and SOPHIENSÆLE. Berlin.
Tickets: www.brut-wien.at
Supported by the German Federal Cultural Foundation and the Berlin Senate Department for Culture and Europe. With the kind support of Frankfurt LAB 2017's residency programme and of the Goethe-Institut.